Moderators: Game Admins, Faction Team, Faction Team Council, Senior Lead Admins
dopey

Posts: 113
Joined: Mon Dec 21, 2015 9:04 am
Location: hell
vvVVvv
dopey


---
Wannabe Don

Posts: 1079
Joined: Wed Jun 25, 2014 11:08 am
---
Spam Machine

Posts: 6275
Joined: Sat Nov 23, 2013 1:51 pm
Ingame name: DSQ
Contact:
VIP
show me an opp and ill krash it
---
Wannabe Don

Posts: 1079
Joined: Wed Jun 25, 2014 11:08 am
---
dopey

Posts: 113
Joined: Mon Dec 21, 2015 9:04 am
Location: hell
---
Wannabe Don

Posts: 1079
Joined: Wed Jun 25, 2014 11:08 am
---
Gold Member

Posts: 938
Joined: Sat Mar 30, 2013 12:14 pm
Location: Israel
---
To Protect and to Serve

Posts: 2656
Joined: Tue Jan 06, 2015 3:26 am
Ingame name: Andrew Lowe
VIP, it was a good run yall.
---
Wannabe Don

Posts: 985
Joined: Sun Dec 26, 2010 4:06 am
Ingame name: Asshole
I'm not in the business of writing sob stories or emotional posts, but the time I spent in this faction has undoubtedly been some of the best times I've have had on this server. Shout out to all of the my Vs come and gone. Thank you to everyone who stuck it out until the very end and tried to keep the faction running.

Venom in Peace.
---
Mafia

Posts: 566
Joined: Thu Jul 10, 2014 9:34 pm
Location: ▽ 
We definitely had our ups and downs. Regardless, it was a great experience leading the faction - one I will not forget so soon.
On behalf of AceS and myself, I would like to thank every single one of you for your immense dedication and conribution into the faction which ultimately made it what it has become.
Unfortunately, recent events put me in a position, where I am no longer able to lead the faction, and keep it moving into the right direction, hence why this faction has come to its end.


I wish you the best of luck in your future endeavors – Goodbyes are indeed painful but are a sign of good memories.
---
Spam Machine

Posts: 6033
Joined: Sun Mar 29, 2009 12:23 am
Location: East Los Santos, USA
It is only through labor and painful effort, by grim energy and resolute courage, that we move on to better things.
- Theodore Roosevelt
[video]https://www.youtube.com/watch?v=Q-2sUkO2axU[/video]
Damn, has this faction came a long way. I remember when I was reminiscing on old videos of Blythe Avenue ViperZ and finally reopened this faction with a group of friends. None of us thought we would've came this far, by any means. We started at like, 6 people or something like that. It's been a rough road and it's definitely been a fun one. I've made multiple friends in this faction and lost many, but it's always been a fun experience. I've done everything. I've became an admin, and I've gotten my favorite faction in history Official. I was also the first person to get an Asian Gang Official, and damn, that was hard. No one believed that I could do it and I wanted to prove everyone wrong. But it's not just "I" who did this amazing accomplishment. It was all my day one's that stood by me until the end, even though some are not apart of this faction anymore. Yuvaljke, Vici, Vidals, Oaks, Price, Roske, DaFedz, DaxWax, Fade, Vo Vong, Xu Vong, Zapper, Bishop, Fanta, Bucksta, Trent, and way more. If I missed you, you know who you are. All of you will forever be my brothers. This faction was completely fictional and we put a lot of work into it. A lot of people probably didn't know but we wrote our own stories, our own knowledge, everything was creative and we kept all of the stories, everything, was in character and roughly based off IRL Asian gangs. None of that would've been possible with just me, it was only done because of all the outstanding members that contributed to this faction and logged on everyday to just enjoy the roleplay and the faction. We've also had a lot of hatred from many, but the people that believed in us held true and that's what kept us all motivated, and that's what kept this faction running for so long.
The moral of this story is this: don't give up and don't let anyone tell you what to do. Be dedicated and determined and you can do whatever you want, trust me. Let's remember the first Asian Gang to ever reach the Official Status in LS:RP history, and let this be a motivator for all the others that want to create something new on LS:RP and put there blood, sweat, and tears into their respective project like I did with ViperZ. Never say something's impossible because a lot of people gave up on me and on this faction, and said it was a waste of time and nearly impossible. But nothing is impossible.
Due to the unfortunate events of what happened in December, I'll never know what this faction could've truly became under my leadership, but I can only imagine. I didn't even get to do 25% of my plans that I had planned, even after months of official... kinda sucks. I heard great things under the leadership of one of my most trusted friends yuvaljke and he brought the faction up even in a very dark time when I was unfortunately taken away, but I stayed true to this faction and helped him with all my might, and yuvaljke has ran this faction well. I'm proud.
This is a goodbye to ViperZ and I hope all of the current members respect this decision. It hurts the leadership to do this but it's something we're forced to do. If I'm ever brought back to this server, I will probably be making another project like this one, but the Imperial Viper Nation ends here unfortunately.
Thank you all for your continued support, and thank you to Damaz (and the other FM members) that granted us this chance. My PM's will be open for anyone that has questions, about anything. If you need help with your faction in terms of advice, feel free to PM me. I'm not perfect but I can try to help you to the best of my ability.
Thank you for all the memories and the unparalleled amount of enjoyment that this faction and the people around this faction has provided.
A special thanks to all the past and current members of this faction. None of this would've been possible without you.
VIP.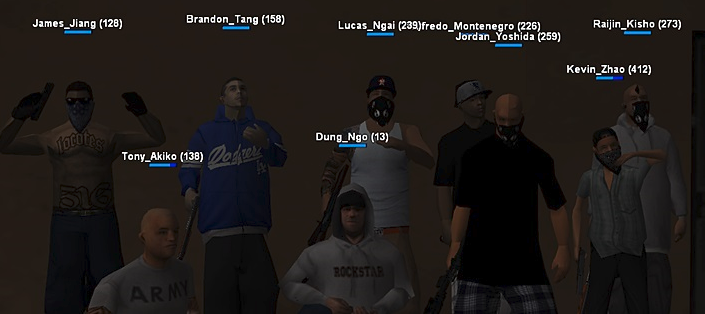 ---