Chapter 1: Origins
"Happy" in 1996 before indicted on violations of the RICO act.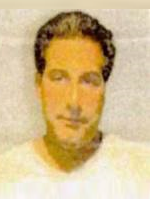 Age 39, Photo taken in 1996
April, 2013, Arnold Bellomo gets released from Vernon C. Bain Correctional facility on parole, after serving a 16 year prison sentence in violation of the RICO act. Arnold Bellomo's history trails back to a glorified crew under his uncle's reign as boss in the Genovese Crime Family. After being released, Arnold returned back to his original hometown of Belmont where he was visited by enforcers of his uncle. Due to some uncivil disloyalty, Arnold Bellomo was instructed by his captain Eugene Borsellino to open up shop in Los Santos. Shortly after Arnold Bellomo's arrival to Los Santos, he was indicted on charges of murder in the second degree while out on parole and immediately put back in prison. Arnold Bellomo made his face and presence known in Los Santos before he was indicted. During this murder charge, it was argued that he was involved in the execution of a man for allegedly trying to "raise the price on a house" for Arnold. Due to his past, he was held on an impossible, five hundred thousand dollars bail. In April, 2014, his lawyer, David Speigelhagen convinced the courts that he was there during the time of the murder but was there against his will. Further investigation was done and although his fingerprints were on the kitchen sink at the crime scene, a witness to the murder plead guilty and took the fall for Bellomo's involvement, as the murderer. He also lied and admitted that "Bellomo was kidnapped and brought to that location to witness the murder for the suspect's own sick and personal gain." Not soon after, Bellomo was released back out on parole.




"Happy" on trial in 2014 after being released on parole and jailed again under alleged parole violations

.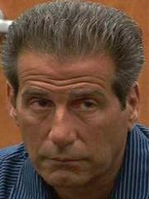 Age 56, photo taken in 2014




Upon Bellomo's release, he met up with most of his old counterparts from a year prior, setting up shop. Bellomo started his crew with Paul Argenzenio, Craig Porco, Walter Funicello and Lawrence Borgesi, All associated members of the inducted Genovese soldier. Arnold Bellomo instructed Paul Argenzenio to take out a lease on what became a mob hot spot in East Los Santos called, "The Brickhouse." It was known for it's occasional scuffles and bar fights between a number of criminal entities such as biker gangs, bloods, crips and Spanish gangs. The public asked why, such a brand new bar automatically involved in neighborhood violence. Well, "The Brickhouse" was known for it's rumors around the East Side of the city for being "connected" as society would call it. The rumors alleged that "The Brickhouse" had ties to America's most famous criminal phenomenon, La Cosa Nostra, modernly referred to as "The Mafia" or "The Italian Mob." The FBI noted that East Los Santos' most notorious gangsters frequented the bar to have a meeting with "Happy" who the FBI suspected to be Paul Argenzenio at one time. Wiretaps let out that "Happy" did business with old and new up and comers in East Los Santos such as "White" "Ruskie" "Zippy" "Spleen" "Tez" "Herp" "Wild" "Black" "Joker" "Bozo" "Rasta" "Porky" and many more renowned underworld names from April through June. So on suspicion, Paul Agrenzenio was charged with felonious racketeering due to associating with known undesirables. Paul was locked up and held on an unreasonably high amount of bail. Once the FBI realized that "Paul Argenzenio" does not go by the name "Happy" they were forced to drop the charges, but instead indicted him on Tax Evasion and took away the "Brickhouse's" lease.

In June, another local mob hot spot opened up just around the corner, still in East Los Santos. This time, it was a deli, called "Meathead's Deli." Meathead's started off as a hole in the wall Deli that the locals were again confused about, due to the immense amount of Caucasian guys just trotting up and down the hard living, gang infested East Los Santos. The public started to wonder "Why aren't these men being attacked by local gang members?" or the typical "Why haven't they moved out yet?" People started to put two and two together and realize that this wasn't some ordinary group of visitors or tourists, these men were here to stay as two or three people formed into groups of five or six on the street corners. In August, a renowned SD officer disappeared in East Los Santos, reported last seen in Meathead's Deli. The FBI continues to investigate that as a murder, as they lack an immense amount of evidence to blame employee's at Meathead's for it. The rumors went viral on the street and more and more up and coming crews began to become stationary around Bellomo and his cronies. New names like "Mazzy" "Gio, " "Lou" "Franco" and many more up and coming renowned criminal underworld names are arising in routine wiretaps.
---
Reporter Ann Hastling asks FBI Agent Daniel Palmer about his experience in investigating Arnold Bellomo since his 2014 release in April.
---
Hastling:
"Good afternoon Agent Palmer, thanks for joining us this afternoon. I wanted to ask you a few questions about Arnold Bellomo, maybe get some opinions or thoughts on how you feel about him now that he's out. From what we understand you've been investigating Bellomo and dealing with his arrival, locals claim he's taken a new approach and leads a square life now. How do you feel about that, do you believe that?"
Palmer:
"Yeah, Hi Ann, thanks for having me- ugh... Yeah, Arnold Bellomo's track record pretty much proves he's nothing but an overzealous, glorified thug. I don't see how a guy like Arnold Bellomo could ever lead a common lifestyle after everything he's been through and done in his life. From what I understand and from what sources told us back from Vernon C. Bain is that he's very short tempered and he's typically very abusive and violent. I wish him luck with leading a square life but I doubt it'd go very far."
Hastling:
"Wow, so basically what you're saying is Arnold Bellomo, even though he's served his time and even though he's finished his punishment, you would agree he's most likely still up to any of his old antics before the RICO charge back in 1997?"
Palmer:
"Well... we don't know. We're not allowed to really make comments on how we think he's doing, or what we think he's doing. Obviously I mean- he's trying to straighten himself out but I just stray away from the fact that he's going to be "good" or "behaved" now that he's out of Vernon C. Bain. Again... I wish him luck, but I don't know."
*Palmer blinks a few consecutive times.*
---
Administration
Boss
|
Underboss
|
Consigliere
---
Family members
Captain
|
Soldier
|
Associate
---
Street guys.
Stand up guy
|
Wannabe
|
Outsider
---
Chapter 2: "Eat with us or starve."
Over the course of 6 months, Arnold Bellomo has made a name for himself alongside of the big time up and comers who served under him during his starting era. Aroldo Bianco, Vincent Cassesso, Walter Funicello and Riccardo Arrigoni, both old and new members have climbed their way up the ranks. Arnold receives word from Eugene Borsellino that the Genovese Crime Family gives Arnold Bellomo the blessing to start his new beginning in Los Santos as the boss of his own organization. With backing from the Genovese Crime Family, Arnold Bellomo inducts the following members into his family:
- Aroldo Bianco: Toronto born but raised in New Jersey, Bianco had been involved within the Local 1235 Longshoremen Union of Port Newark from the age of sixteen well into his mid-twenties. He was speculated with being in-charge of many "No Show" jobs and "Ghost Payrolls" of undocumented workers due to his management position within the union. It's believed that he work hand in hand with various factions linked to Organized Crime and La Cosa Nostra in the New Jersey tri-state to infiltrate the Local 1235 for it's financial gain. After a 2011 RICO trial where Bianco was to be tried for crimes held under the RICO Act such as follows; Embezzlement of Union funds, Bribery and Extortion of Union Officials, Bribery Blackmail and Extorion of Government Officials. Charges were later dropped due insufficient evidence and lack of witness statements. He later resigned from his position in 2012. In the spring of 2014 he moved to Los Santos where he became involved with Arnold Bellomo, it's believed that Bianco manages the bookkeeping and maintains operations for Arnold Bellomo. Rumors and tales speculate that Aroldo Bianco had a hand in the death Pat DiGeronimo, son of former Munnichese Organization's streetboss, Gerald DiGeronimo. No one has admitted to Biancos connection within the death of DiGeronimo. They say he is the damage control for the organization.

- Vincent Cassesso: Born and raised in Red Hook, Brooklyn, Vincent Cassesso was tranferred into Bellomo's crew as a favor to a Cosa Nostra affiliate of Arnold's. Adamo Perconti ran a crew in Red Hook. Vincent Cassesso used to earn for Perconti before he enlisted in the USMC and got deployed to Afghanistan.. Vincent returned and Perconti deemed him a liability in Red Hook. Arnold agree'd to look after Vincent, and Vincent proved to be just the opposite of a liability in Los Santos. Vincent worked his way up from associate to captain in Bellomo's organization. Rumor has it that Vincent suffers from PTSD and anxiety, but is serious business in Bellomo's organization due to his loyalty.

- Walter Funicello: Miami-born, Walter Funicello came to Los Santos when he was 30. For fifteen years, Walter Funicello earned his way up the ranks in Los Santos' "Belmont Borgata" in connection to Samuele Nostriano. Walter was left without a family to earn for after Nostriano fled Los Santos in search for a peaceful quiet life out of prison. Funicello performed a number of tasks for Arnold and has been rumored to be an extremely close, loyal friend of Arnold's.

- Riccardo Arrigoni: Off the boat from Northern Italy, Riccardo Arrigoni sought refuge in America where he met Arnold Bellomo. After meeting people involved in Bellomo's organization, Riccardo made quite a name for himself due to his diplomatic and bright personality. People say that Riccardo is exceptionally high up in the ranks, dealing in family advisory and management.
Over the course of time the network grew larger and larger. Today, new crews and groups from all over the city are lining up to do business with Arnold and set up healthy relationships with him and his leaders and loyalists. Word on the street is, Arnold does business with a number of other bosses in the city. They say he is well known and well connected. Hated by most, loved by few, respected by all. By the day, new comers have been lining up to impress Arnold Bellomo and his team of loyal members to be able to consider themselves as "part of the family." New members are being inducted into the society under the supervision and advisory under Los Santos' Cosa Nostra. By the day, The Arnold Bellomo network grows wider and more prosperous. The activity expands all throughout East Los Santos. Lately, the Arnold Bellomo network has been seen expanding further East towards the beach, waiting for their expansion to be fulfilled and living the every day lifestyle to cater to natural born money makers.

On the streets, anyone who dealt with Arnold over the course of his six month introduction to the city has heard his favorite motto. Agreeably, it has motivated many other groups and factions to remain supportive behind him. His notorious words from Cosa Nostra bosses, biker club president's down to simple street gang leaders were: "Eat with us or starve." What he implied when using this phrase in every single moment he used it, was basically "If you don't do business with us now, you will never ever do business with us. Ever." People treated such a proposal with respect, considering the streets were drying up on guns and drugs since before his arrival. Using this technique of motivation, he managed to survive one full scale war, two small-scale wars, two stubborn police officers and a countless amount of unreliable rats and "runarounders" all using his alliances and connections. After a while, Bellomo was the guy people would go to for diplomatic relief. To end wars. To step in when things get out of hand. As time went on, Bellomo and his group of loyalists became more than just "business men." They became mediators and labeled themselves and their allies as "Hero's" of Los Santos's Eastern criminal underworld. Today, they are still alive and well, operating in the shadows as they should be.
---
Associates businesses:

Meathead's Deli: Located in East Los Santos, Cedar Avenue.
Spankie's Spa: Located in East Los Santos, Saints Boulevard.
Borselino's Seafood Restaurant: Located in Santa Maria, Fishing pier.
The Big Tomato Bar and Grill: Located in Gilmore Avenue, Idlewood.
OOC Information:
---
Our personal policy on CK Agreements:
---
How to join.
---
[video]https://www.youtube.com/watch?v=0HEVQAdd-I8&feature=youtu.be[/video]