Technical overview
Script name:
Tolls
Script author(s):
Lenny
Author's comment:
The old system (Developed by krisk) was becoming an annoyance since it required cops to constantly regulate the tolls, who sometimes forgot to re-open them after their situations came to a stop. Civilians PMing cops and calling 911 became a daily routine that nobody really liked. It needed to be changed, so I re-wrote it all!
General information
By default the tolls are always available to pass, however requires a fee of 50$ to be paid by the driver. Police officers that are
on duty
do not have to pay, but still need to use the same command to get past:
/opentoll
Can only be used at a toll booth at the "i" icon in front of the barrier. Vehicle must be standing completely still in order to be able to pay. This command has a six-second time limit which protects the player from overpaying.
When opened, the toll has a
six-second timer
before it's closed again. Cops on duty can still pass the tolls when they are closed.
The police
has a command to regulate the use of the tolls individually or, in case of emergencies, all together:
/toll [Var]


flint/richman/lv/bbleft/bbright
Toggles the respective tolls locked or unlocked.
emergency
Locks all tolls for five minutes.
release
Unlocks all tolls.

Every time something is changed, there is a timer on two seconds to avoid spam and unwanted actions.
As of now, no toll fees are of benefit to any faction.
The five tolls
Flint
Richman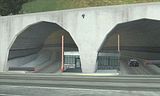 Las Venturas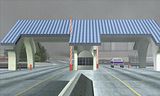 Blueberry (Left)
Blueberry (Right)