Prior to a relationship with Public Enemy Number 1, Family Wood Gangsters was a largely unknown gang. Its members rarely left Red County, selling small amounts of methamphetamine and committing petty crime for rent money. This changed when Buck 'Speedy B' Lloyd and Oswald 'Wizard' Hertz cemented an alliance within San Anne.
Oswald Hertz reached out to the Aryan Brotherhood to secure a long term relationship between the small peckerwood gang and the 1-2. Marvin 'Martian' Redman orchestrated the Family Wood Gangsters paying their dues to the AB.
Aiden Gatens met with Roy Moran to pay the Aryan Brotherhood's tax. This ensured protection within prison, and a business relation with white gangs within the AB's sphere of influence.
The peckerwood gang members primarily hung out in Blueberry Skid Row. Buck Lloyd began a relationship with a meth cook named Llewelyn Boyd from Bone County.
Oswald Hertz worked on fulfilling his promise of creating business for the Family Wood Gangsters. He made calls to his connect in the county, organizing a meeting between the president of Devil's Dozen and FWG.
Public Enemy Number 1 are the foot soldiers for the Brand. It was essential for FWG to link up with the larger and more influential gang.
Issues between the two gangs were created after PENI gangbanger Tanner Erisman attempted to pimp out the girlfriend of Aiden Gatens. After Aiden attempted to resolve the issue, he was jumped by Nathan Harford and Erisman.
FWG attended a punk rock show in an area controlled by PENI. At this party, Buck Lloyd attempted to have sex with PENI member Michael Hall's underage sister. Aiden Gatens was forced to enlist the help of a biker friend, killing his homeboy to ensure his gang's reputation was not tarnished.
Following this murder, Aiden Gatens vanished until he was arrested for another crime and brought to SACF. Buck Lloyd's body was never found. Gang recruitment continued while Gatens was in prison, and it's inevitable that the peckerwood gang will increase its presence in San Andreas following Gatens' release.
A few weeks after Aiden Gatens' arrival in SACF, he was thrown into the Secure Housing Unit (SHU) following a race riot. During the riot, Daniel Lockerby proved himself and gained the handle "Charger", along with the respect of Aiden. Race riots are used to identify who is deserving of being recruited into a gang, as they serve as proof of an individual's willingness to commit acts of violence.
While in SHU, Aiden and Daniel met AB member Marvin "Martian" Redman. Wraith and Martian had contacted each other previously, but had never spoke face-to-face. Meeting such as this one were vital in forming a tight relationship between Family Wood Gangsters and the Aryan Brotherhood.
Wraith gained more "juice" for his work in prison riots, and his role as county rep. During a brief period where Thomas Kruger was locked down, Aiden Gatens ordered an attack on several members/associates of the D'Aquila Crime Family.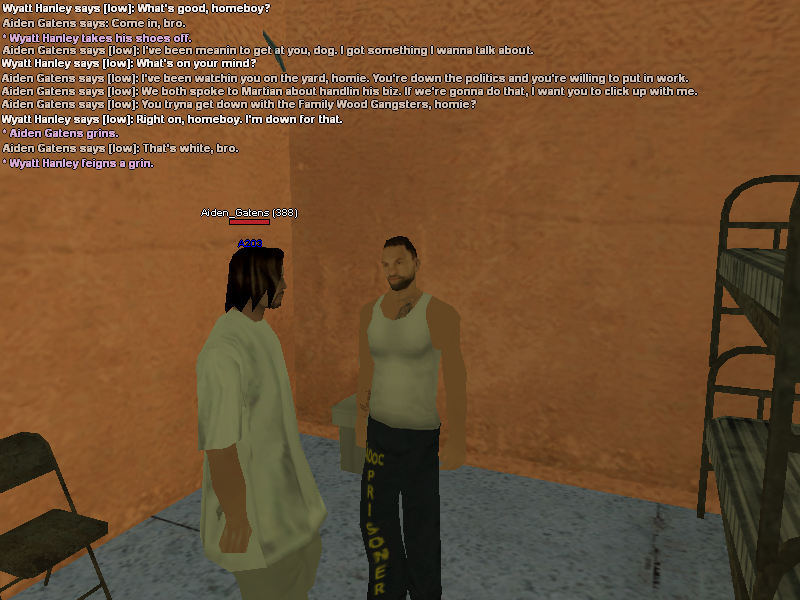 Aiden recruited several peckerwoods into the gang while in prison. One of which was Wyatt "Crash" Hanley.
Following his release, Aiden Gatens began to work for AB member Martian. He carried out his orders on the streets, and served as the link between SACF and the outside world. This work involved setting up drug deals, collecting money, and selling firearms.

With both Wyatt Hanley and Aiden Gatens on the street, the gang's area of influence expanded. They made connections and acquired money. A part of this money was sent off to their fellow gang members within prison. At one point, a hit was placed by PENI member Troy "Bully" Krupp. Aiden and Wyatt proved their willingness to murder for the 'machine'.
Soon after, Gabriel "Scribe" Byrne was recruited into Family Wood Gangsters.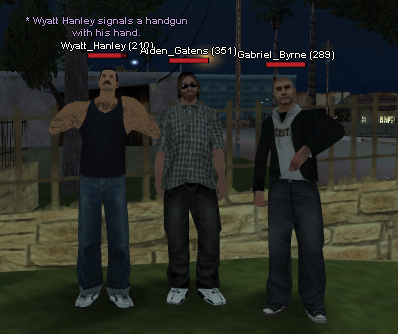 Wraith became more heavily involved in the arms trade, frequently supplying Gabriel Byrne and Wyatt Hanley with strawbought weapons in order to expand their influence. The majority of Wraith's weapons came from a PENI skinhead, Bully. He also dealt with Pyotr Zhurov, a Russian arms dealer.
Wyatt Hanley and a peckerwood methamphetamine cook named Peter Rowe began producing ice, out in Bone County.
Marvin Redman was released from prison, and required an outside connect in order to properly carry out his business. He approached Wraith, who was struggling with alcoholism.
Scribe, Crash and Wraith continued to expand their influence. They dealt with firearms, narcotics and a multitude of other crimes. They operated in different areas of the city. Day by day, they gained more connections and profit.
Wyatt Hanley's methamphetamine operation crashed and burned.
On behalf of the Aryan Brotherhood, Wraith started to collect a monthly tax from various white biker clubs throughout the state.
Wraith met with a Russian mobster, and offered him protection on behalf of the White Car. Richard Hahn set up the deal.
Wyatt Hanley struggled with a drug addiction.
Family Wood Gangsters frequently sold narcotics to skinhead gangs, which was made possible by their close relationship with motorcycle clubs, who frequently produced and imported various drugs.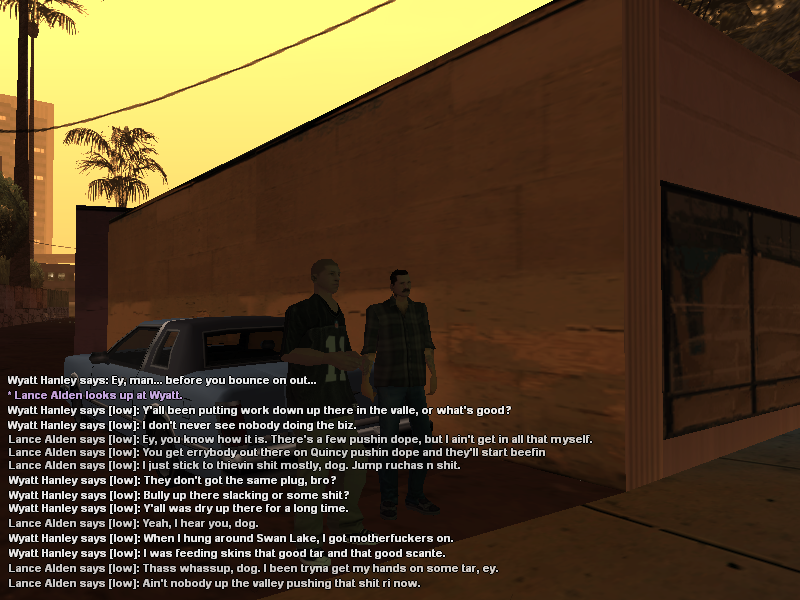 Eventually, Wyatt Hanley's influence became too much, and it irritated influential skinhead Troy Krupp. HE was currently Martian's associate, and therefore had a huge amount of pull within San Andreas. Troy Krupp threatened Wyatt Hanley, and was killed.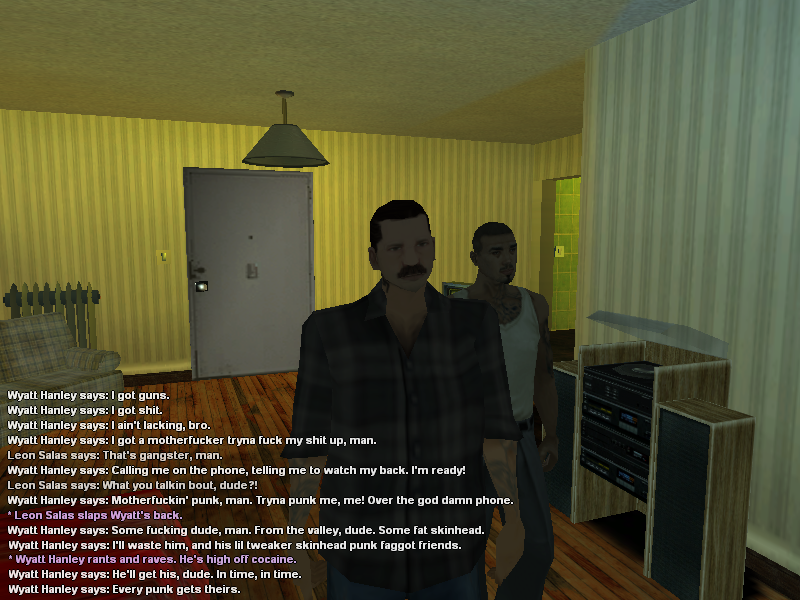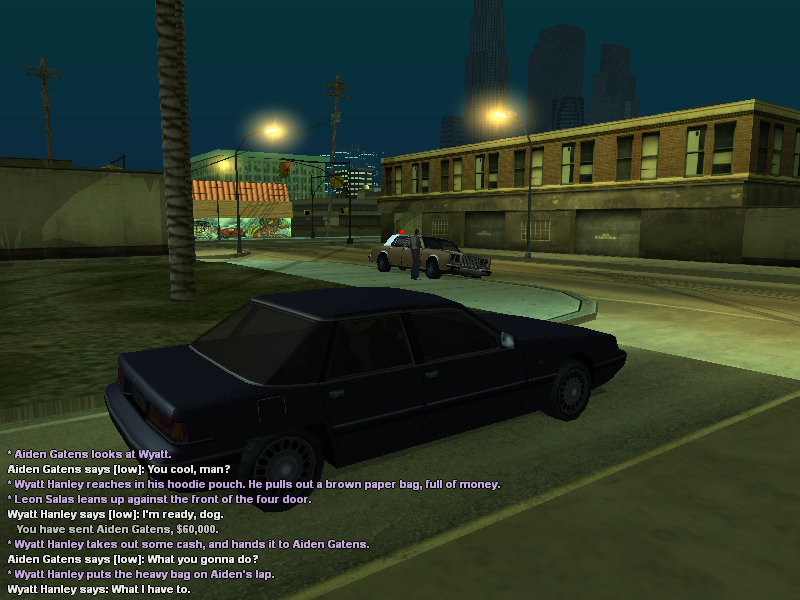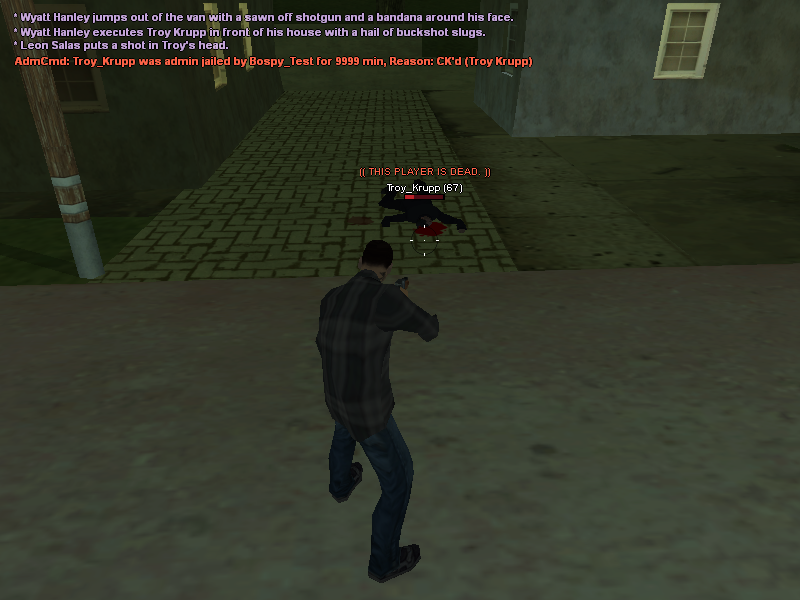 When questioned on the shooting, Wraith lied to Richard Hahn. This saved Wyatt Hanley's life.
In order to expand their clientele, Wraith and Crash would drug-up easily influenced youths, and women.
Aiden Gatens relapsed into alcoholism following the death of his mother.
He found solace in cheap heroin.
Thomas 'Zombie' Kruger was released from SACF. He was one of Wraith's closest friends, and the duo immediately schemed on how they could make money together.
The Aryan Brotherhood used FWG and PENI as soldiers when meeting with a group of Nazi Low Riders.
While Wraith served a short stint in SACF, Wyatt Hanley continued business.
Following Aiden's release, he supported his peckerwood homeboys inside San Anne.
Mere days after his release, Aiden Gatens continued his life of crime. It was essential in order to support his various habits.
Wraith preyed on two young girls from Seville, turning them into drug addicts. While high, Wraith had sex with a fifteen year old girl. Wraith's home on Acacia Street was popular a drug den, and tweakers/addicts throughout Willowfield would come there for a quick high.
Due to his influential status within the city, Wraith's ego exploded. He'd frequently beat and bully women who disrespected him.
Wraith cut up and weighed out narcotics in his Seville home, then passed them on to Wyatt, a drug dealer.
Aiden Gatens sold firearms to motorcycle clubs. He become a popular figure in the biking scene, and used this to enforce the Aryan Brotherhood's tax.
Wyatt Hanley's drug addiction was a constant problem for him, and one that he never truly abolished. The majority of his profits would go towards supporting it.
Crash was eventually arrested on a gun charge.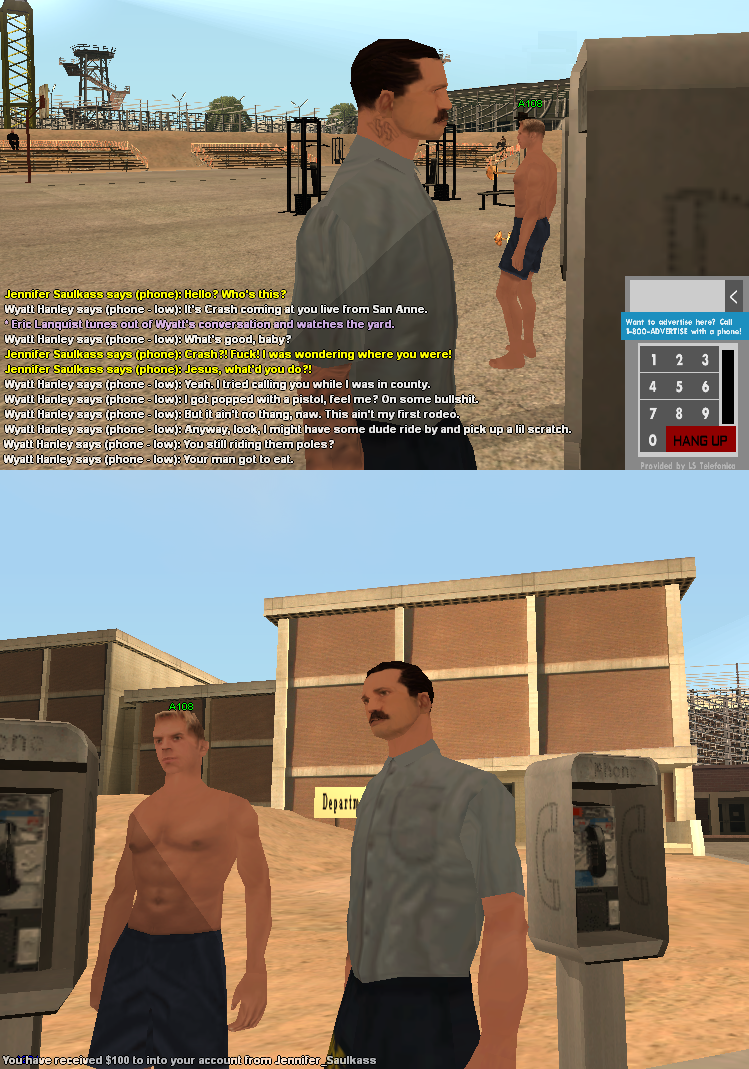 His hustle continued inside SACF. He sold heroin to surenos, peckerwoods and skinheads.
Eventually, his name came up. He was ordered to kill Austin Dellinger, a peckerwood. He did so in order to secure respect.
Wraith was recruited into PENI by Martian. He clicked up in order to acquire a closer relationship with the Aryan Brotherhood. PENI was a bigger, more powerful gang. They often recruited the 'best of the best' from smaller gangs.
Wyatt Hanley did not thrive in San Anne. He made frequent mistakes, and was eventually cut.
As a member of PENI, and an associate of Martian, Wraith was able to assert his dominance over other gang members.
Wraith used three motorcycle clubs to clean his illegally gained money. They pushed his cash through their businesses, such as strip clubs and bars.
Wraith frequently wasted his cash on prostitutes.
Larry Campbell, a Family Wood Gangster, held the keys for the White Car. He communicated with Wraith, and set up drug deals with the Southsider car.
Martian laid more and more responsibilities onto Aiden Gatens. He started to collect from peckerwood gangs.
William Musgrove, from Cossacks MC, fled the state with $5000 of Wraith's money. It was the money he was supposed to clean. Consequently, he was greenlit. Wraith ordered other motorcycle clubs to kill him, if he returned.
Ethan Gurakqui, a Family Wood Gangster, would introduce potential gang recruits to Wraith. This was to ensure that only those who are vouched for would ever join the gang.
Eventually, every motorcycle club in the state was handing a monthly tax to Wraith. He would then feed it to the Aryan Brotherhood, through various methods.
Word of Kyle Stewart's release hit Wraith. He planned to hunt down and kill the rat, and used Kyle's ex-girlfriend to find his whereabouts.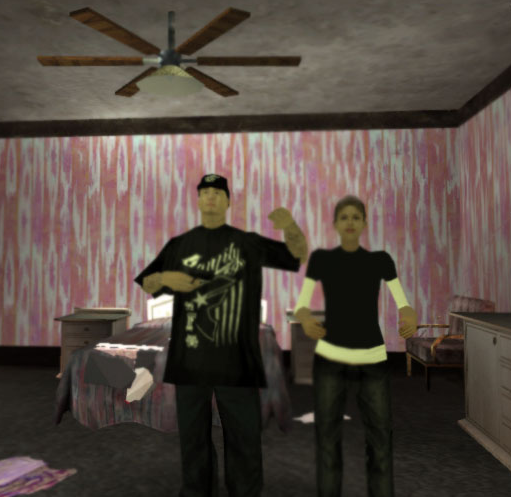 Action and Joker continued their frequent drug deals.
Angus Cain was eventually caught, and documented by the LSPD gang unit.
Although the gang unit was creeping closer to Wraith, he was unable to stop and lay low. It was essential that he continued earning money.
The gang unit caught another Family Wood Gangster. Ethan Guraquki was arrested, and documented.
While in San Anne, Joker expanded the gangs ranks. He recruited Cooper Holloway.
Wraith assaulted Douglas Nyswonger's wife, smashing her head off a car roof. She then informed the LSPD of Wraith's plans to kill Kyle Stewart, and he was arrested.
Wraith was threatened with two charges. The assault of Marilyn Nyswonger, and his plan to murder Kyle Stewart. He decided to turn informant, in order to save himself. He handed over a long list of names, and information regarding every white gang in the state. He broke down how the AB works with biker clubs, how guns are brought into the state, and who in the state is currently influential.
Wraith was free to go. He fell into a deep state of depression, and immediately bounced back into his old habits. He abused drugs and alcohol, primarily heroin. His face began to sag, and his teeth darkened. He spent months in a drug den, on the eastern side of the city. He was forced to get a new job, so that he could continue to support his habits. Joker from FWG found Wraith there, and followed him out to the car park. Wraith murdered Ethan Guraquki, as he feared that Joker knew about his snitching.
Wraith laid low for a few weeks. His drug habits continued, as did his crimes. He raped a woman named Faye Miller.
Wraith was arrested, and arrived in SACF. He immediately hit protective custody, as he would be murdered for being a confidential informant.