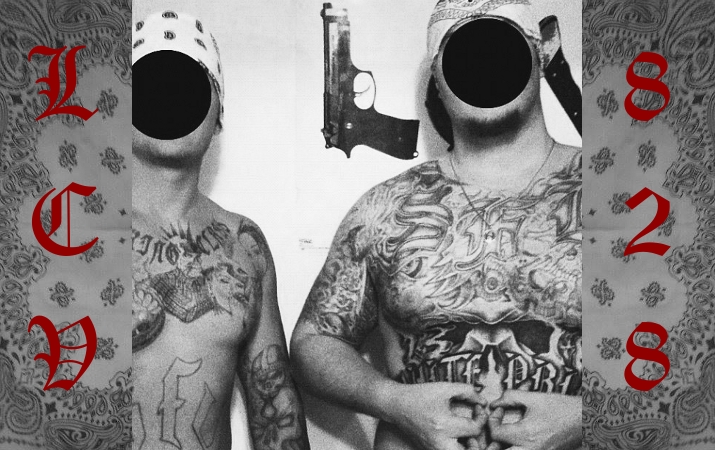 ---
Las Colinas Valley Skinheads
Las Colinas Valley Skinheads
(LCVS) is a white street gang active in the Las Colinas Valley region, as well as San Andreas state prisons. The gang recruits white gangbangers from their local area. Members are criminally motivated skinheads trapped between the everyday violence and drug use which their life revolves around. As a result of it, a lot of them end up in jail or prison. The valley is a hotbed for gang activity and methamphetamine distribution, as it has a long history of Peckerwood and Sureño cliques. The population in the area is mainly Caucasian and Hispanic, making the two of groups get along for the most part, and also form alliances between gangs from the two races.
Although not as territorial as other gangs, the skinheads have presence in the area. Members can be found on Quincy Avenue and Oak Hill Road, as well as local trailer parks. They tend to be more mobile than other gangs in the area. The crime they commit revolves around the manufacturing and distribution of crystal methamphetamine. It's the number one choice drug for all white gangs. Other hardcore drugs such as heroin are also prevalent. Assaults, burglaries, and robberies are other common activities. Anything which is deemed worthy of solidifying the gang's reputation, is carried out by the members.
The crystal methamphetamine strain known as White Gangster began it's reign over the Valley a few years ago. After a short period of being on the market, it immediately became a hit among tweakers. Cheapness of White Gangster made it so accessible to both young and older generations. Gaining the nickname due to it frequently being sold by white gangbangers in the area, it is believed to be manufactured by a member of LCVS. Purity percentages range from low to high every few months. Cheap chemical materials are used in the creation of the dangerous narcotic, so it is very harmful to users.
White supremacy is an influence for the gang, but not the only factor. The gang collaborates and does business with other races, as long as money is involved. A typical member is usually heavily influenced by the local Hispanic gang culture in the way he dresses and carries himself. Similar monikers are adopted most of the times. Half-Hispanic members are accepted into the ranks because of the demographics and history of the area. Younger skinheads break down on sets, but all sets get along. Notable skinhead sets include the Swan Lake Skinheads, Quincy Avenue Skinheads, Oak Hill Bootboys, and the Ten Acres Skinheads.
In more than a few cases, skinheads from LCV have been recruited by larger white supremacist gangs such as the Nazi Low Riders or Public Enemy Number 1. Entire sets are sometimes used as subordinates by the aforementioned powerful prison gangs. They're used as puppets or soldiers to do the gangs bidding, sometimes even carrying out tasks for the Aryan Brotherhood. A gang member's place within the structure is based on the reputation he has on the street and the weight he carries. Which is why members are encouraged to put in work and prove themselves. These are the hate-filled money-making whiteboy skinhead gangbangers of the valley.
A substantial amount of White Gangster crystal methamphetamine ceased from a home in Las Colinas Valley.
---
Quincy Avenue Skinheads and Oakhill Bootboys posing for a photo.
---
History Of Whites In LCV
Las Colinas Valley has an extensive and unique history of gang and drug related violence. It has been a shared stomping ground for both Chicano and Caucasian street gangs. Although race is often something that sparks issues between gangs, common interests between these two types of street gangs has created peaceful relations for many generations. Sureños, who at first held a more prominent presence, were the star force of the area for a few decades. Some whites ran among Chicano gang hierarchies, often being jumped in due to hopes of monetary benefit.
These gangs were the main presence until punk culture became popular in Los Santos throughout the late 70s to early 80s. Many punk gangs, who were predominantly white, had been created in the area. The punk era was a short one, and many of those who were apart of these gangs joined Sureño factions or developing skinhead gangs.
San Pedro Avenue Skinheads
,
Oak Hill Bootboys
, and
Swan Lake Skinheads
were three of the main white street gangs created after the end of the punk era. Recruiting mostly white and the occasional "half-breed" (Mexican-Caucasian), these skinhead street gangs were almost the spitting image of their Chicano predecessors.
Similar styles, dialect, and mentality kept them close to one another. Despite the new white gangs maintaining heavy racist ideologies, Sureños seemed to be completely exempt of the racism that fueled neighborhood skinheads. Members of these skinhead gangs had no problem with Chicanos, as the money over race mentality came into affect. Plus the alliance between the overruling prison organizations Aryan Brotherhood and La eMe helped keep peace on the streets.
The activity of skinheads dropped significantly after two members of Public Enemy Number 1 were shot down by police officers, following a double homicide in Temple. This was followed by the arrests of two more skinhead gang members. Crime rates in the area dropped as gang presence declined, leading to a short period of prosperity for the area. Recently, graffiti and police reports have drastically increased in the Kessler Park area. Sales of methamphetamine and marijuana are once again commonplace in the Valley, as local youths follow in the footsteps of their criminal predecessors.
---