Moderators: Game Admins, LS-RP Testers, Player Support Mods, Junior Developers, Lead Admins
Southsider
Posts: 2700
Joined: Fri Mar 30, 2012 1:29 pm
How come?
Put me in jail...
---
Wannabe Don

Posts: 1035
Joined: Tue Aug 04, 2015 10:47 am
Idk.. try to ask the Daopay support.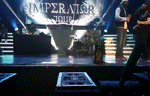 ---
Wannabe Don

Posts: 1358
Joined: Sun Sep 26, 2010 4:26 pm
Ingame name: dunno
Location: the field
nah nigga we askin LSRP, wassup with this shit???
makin niggaz cry since 1995
---
LS:RP Tester

Posts: 462
Joined: Thu Mar 28, 2013 8:52 am
Not something the LSRP Administration can take care of. As already mentioned you need to contact DaoPay and see what they will tell you.
COMMANDER
MIKE GASTON — 11395

CHIEF OF STAFF
LOS SANTOS COUNTY SHERIFF'S DEPARTMENT

Also starring as

Sergeant

William Blakely
---
Who is online
Users browsing this forum: Baidu [Spider] and 3 guests