ARTICLES

—

EMPLOYMENT

—

REAL ESTATE

—

JOBS

—

VEHICLES

—

WEEKLY CIRCULARS

—

GOVERNMENT PUBLICATIONS

—

PLACE AD

---
Suspect at Large After Officer Involved Shooting
By Billy Manson |
January 6, 2017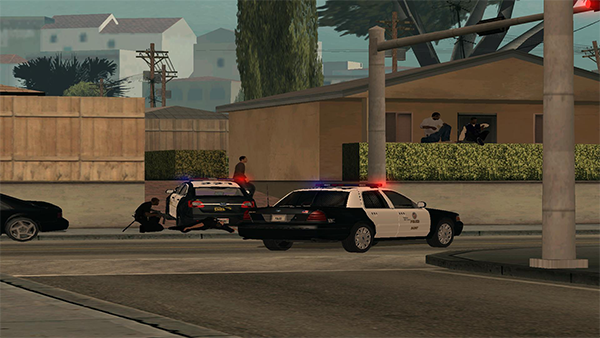 Officers clearing the scene for the safety of others.
After days into the New Year, another horrific shooting was recorded in the Crenshaw neighborhood. Residents, who frequently gather on the corner, fled for their lives as a hail of bullets was fired between police and the suspect. Unfortunately, the shooting left one officer critically injured and another innocent bystander in the hospital, after a stray bullet ripped through the fence and pierced his body.
A witness, claims seeing a police cruiser whip around the corner with its sirens blaring and approaching the house seen in the photo above. Afterwards, gunfire was exchanged and numerous sirens could be heard surrounding the neighborhood in response to this situation. It was a chaotic scene, this witness reports, almost as if the "disease" from Idlewood had spread northward into their neighborhood.
The suspect is still at large as this time and is described as an African American male in his early twenties, who is armed and extremely dangerous. We advise you to immediately contact the authorities for any suspicious activity and to not handle the situation on your own. Our condolences go out to the officer's and the bystanders' families, in hopes of a fast recovery. We'll be sure to bring you any updates about the suspect and the injured victims when it becomes available.
---

Code: Select all
[b]COMMENT by[/b] [Insert Username]
[b]Email:[/b] [Insert E-mail]
[b]Comment:[/b] [Insert Comment]