OFFICE OF SENATOR ALFIS SMITH
FIFTH DISTRICT OF SAN ANDREAS
STATE LEGISLATURE OF SAN ANDREAS
Senator Smith Announces Countryside Rally in Blueberry
NOVEMBER 1, 2016 - FOR IMMEDIATE RELEASE
Earlier today Senator Smith sent out a presser to the media detailing an upcoming rally he has in Blueberry. According to the presser, he intends to have his legislative director Pastor Leviticus Clarkson speak, before speaking himself and laying out his agenda concerning the re-invigoration of the county. As of the moment, he says, he does not plan to have any other members of the GOP or SADP there, which begs the question - is Senator Smith detaching himself from the party?
"The county is an area that has been neglected for the last few sessions of Congress, on Saturday that changes. I intend to lay out a 5 point plan to reinvigoriate the county, make the ground ripe for businesses and private individuals to invest, secure and protect our wildlife in areas like Flint County, Back O' Beyond, and Shady's creek, and overall sow the seeds of prosperity in the areas outside of Los Santos.
This will not be easy, therefore we will need YOU, the people to be on our side. However, together I believe we can do any and anything. I'm not being backed by my own party or any organization, just by YOU, the people. So if you wish to support this effort and any future undertakings I spearhead, please show up for this rally! Details can be found attached below.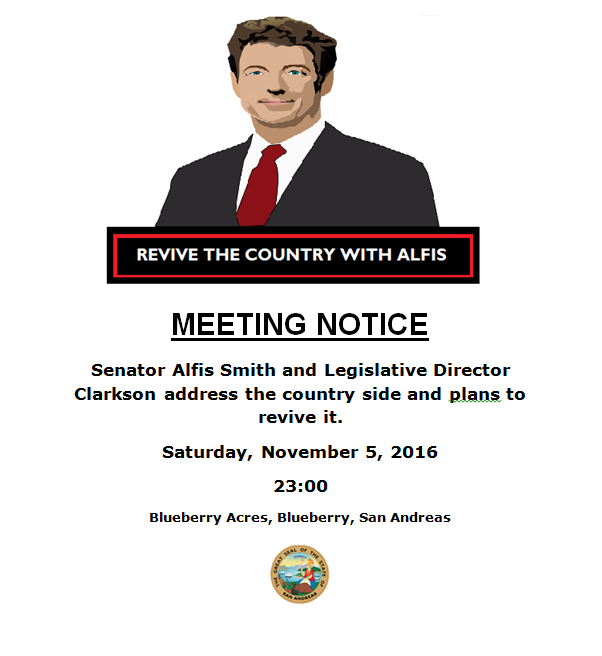 Alfis P. Smith
5th District Senator.
PH: 1543671
###